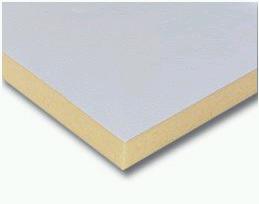 Thermax White Finish Insulation
Thermax White Finish polyisocyanurate insulation is designed as an insulation and interior finish system for interior masonry or concrete walls, plus walls and ceilings in metal, wood post frame, and concrete or masonry buildings, as governed by building codes. The glass fiber reinforced polyisocyanurate foam core of Thermax White Finish is faced with nominal 1.25 mil embossed white acrylic coated aluminum on one side and 0.9 mil smooth aluminum on the other. The white embossed surface of Thermax White Finish is aesthetically pleasing and easy to clean. It can be pressure washed up to 1,000 psi with a 15-degree or greater spray tip (at minimum 3' distance).
Thermax White Finish insulation can be installed exposed to the interior without a thermal barrier.
We stock the following