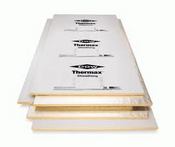 Thermax
Thermax Sheathing polyisocyanurate insulation is a non-structural, rigid board insulation consisting of a glass fiber reinforces polyisocyanurate foam core laminated between aluminum foil facers.
Install Thermax Sheathing in a range of applications including new frame wall construction behind masonry, siding, exterior stucco or other compatible finishes. Thermax Sheathing may installed exposed to the interior without a thermal barrier in may applications.
Because of it improved fire performance, Thermax Sheathing is especially appropriate for hourly rated assemblies.
Thermax insulation's are created by an exclusive free rise manufacturing process, which produces a closed-cell that is specially formulated for improved fire performance. The combination of the closed-cell foam core and aluminum facers produces boards that deliver high R-value plus excellent dimensional stability and moisture resistance. Used with appropriate joint closure system for the application, Thermax Sheathing with its low perm rating helps to prevent moisture condensation within and behind the insulation.
All Dow polyisocyanurate insulation's are manufactured with hydrocarbon blowing agents, which have no ozone depletion potential.

We stock the following:
1/2" x 4' x 8'
3/4" x 4' x 8'
1" x 4' x 8'
1 1/2" x 4' x 8
1 1/2" x 4' x 108"
2" x 4' x 8"
The following can be ordered
1 1/4" x 4' x 8'
1 3/4" x 4' x 8'
2 1/4" x 4' x 8'
2 3/4" x 4' x 8'
3" x 4' x 8'