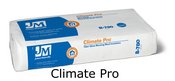 JM Climate Pro/Attic Protector
Redesigned for Efficiency and Speed
Johns Manville has redesigned Climate Pro® in 2012 to provide more coverage and save time during installation. Still part of the same compact package, Climate Pro® now features:
23% higher coverage per bag (73 square feet of R-30 coverage instead of 57)
R-values from R-11 to R-70
Shorter blow-in time
JM blow-in, Formaldehyde-free loose-fill fiber glass insulation is designed for attics. it is noncorrosive and noncombustible. Climate Pro insulation is for professionals using large truck-mounted high-volume production blowing wool machines and for the Blow-In-Blanket System for blowing in to fill walls, ceilings and irregular spaces. Attic Protector insulation is for the remodeling professional or do-it-yourselfer who uses a portable blowing machine.
Performance Advantages
Improves indoor air quality - because it's made without formaldehyde.

Thermal efficiency - provides superior resistance to heat transfer with R-values up to R-15 in a 2x4 cavity and R-23 in a 2x6 cavity.

Thermally efficient - provides effective resistance to heat transfer. Unlike cellulose products, Climate Pro settles only 1 to 3 percent, so it won't lose R-value after installation.

Controls sound - reduces transmission of sound through exterior and interior walls and floor/ceiling assemblies for superior sound control.

Fire-resistant and noncombustible.

Noncorrosive - does not accelerate corrosion of pipes, wiring or metal studs.

Durable - will not rot, mildew or otherwise deteriorate. Unlike cellulose, Climate Pro will not hold moisture and will not permanently lose R-value

Easy to install - quickly insulates attics or spaces of any size or shape with out cutting or fitting.

Covers completely - effective in tight spaces, areas with large amounts of cross-bridging or areas with small gaps and voids

For more information click the JM logo