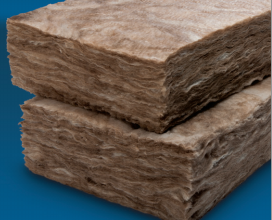 JM Bio Based Fiberglass Batt
Johns Manville is committed to creating more comfortable, healthier and energy efficient indoor environments. We revolutionized the building insulation industry by pioneering the development of Formaldehyde-free™ over a decade ago. We continue to build on our legacy of innovation with a new Formaldehyde-free™ binder, made mostly with rapidly renewable plant-based materials, that continues to offer excellent thermal and acoustical performance as well as improved handling, easier cutting and less dust than our previous product. At JM, we believe that in every detail, materials matter.
DESCRIPTION
JM Formaldehyde-free™ glass fibers bonded with our bio-based binder. A wide range of thermal resistance R-values is available to provide thermal control for both vertical and horizontal applications. JM insulation is available unfaced or faced with a variety of facings, including kraft or foil vapor retarder.
USE
JM Formaldehyde-free™ wide variety of wood frame, engineered wood and steel frame construction applications, including:
New Construction: residential homes and commercial buildings interior and exterior walls, floors and ceilings for thermal and sound control, as well as basement wall insulation.
Retrofit: adding insulation to attics, crawl spaces and above suspended ceilings.
INSTALLATION
JM insulation cuts easily with an ordinary utility knife, and unfaced or tabless versions install easily by simply pressing in place between studs or joists in standard framing. Standard facings have stapling tabs for attachment to framing if additional securement is required.
PACKAGING
JM insulation is compression-packaged for savings in storage and freight costs.
DESIGN CONSIDERATIONS
Kraft and standard foil facings on this product will burn and must not be left exposed. It must be covered with gypsum board or another approved interior finish. Where an exposed application is required, use FSK-25 flame-resistant faced insulation. In colder climate areas, vapor retarders (whether attached to the insulation or applied separately) are often placed toward the heated or conditioned side of the wall. This is done to reduce water vapor penetration into the wall from the building interior. Check your local building codes for vapor retarder requirements.
Refer to JM guide specifications for further design considerations and required installation instructions.