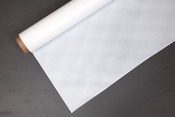 Rufco 300
Rufco 300 has superior moisture retarder characteristics that greatly reduce moisture migration throughout concrete foundation walls and under slab applications. An outstanding U.S. perm rating of .045 is a result of high density resin and the cross lamination process. The individual three layers assure a pin hole free barrier.
Common Applications
Vapor Retarders
Silage Covers
Wood Product Covers
Temporary Walls
Cargo Covers
Insulation Membranes
Fumigation Covers
Rufco 300 is produced by cross laminating two sheets of high density polyethylene, creating additional strength for optimum puncture and tear resistance. This unique process aligns the molecular structure of the high density polyethylene which intensifies the sheet's resilience lengthwise. By laminating theses two layers of stretched film across the bias, the sheet has equal strength in all directions.