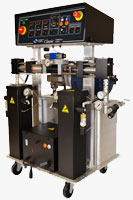 PMC PH25
The PH Series of hydraulic proportioners is offered in several models ranging in outputs from 20 lbs/min to 40 lbs/min at pressures up to 2000 psi and outputs to 1.0 gpm to 2.5 gpm at pressures up to 3500 psi. This series is recommended for jobs ranging from smaller residential applications to larger jobs such as roofing, commercial insulation or the application of performance coatings for tanks or secondary containment.
The PH-25 has a Delta T of 90 degrees F, almost 1.5x higher than comparable machines from other manufacturers. This allows for higher quality foam and less down time due to poor environmnetal conditions, producing a higher profit.
This unit also comes standard with a separate count-down device is provided to be preset by the operator to interrupt the operation of the pump circuit i.e. just prior to an empty drum set,thus avoiding cavitation of the pumps.