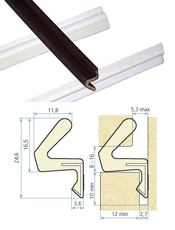 Plain Q-Lon Door weatherstripping
Q-Lon Door Weather Seal QDS-650 is composed of open-celled foam and a polyethylene liner which provides maximum long term performance with low compression force, and resistance against compression set. Retains its original shape year after year to maintain an excellent weather seal. QDS-650 has a fully wrapped insert which offers maximum protection against wood preservatives.
Available in white and bronze.
Kerf Width: 0.125"(3.2mm);
Kerf Depth: 0.438"(11.1mm);
Rabbet Depth: 2-1/8"(54mm);
Reach: 0.65"(16.5mm)