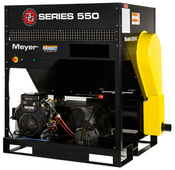 Meyer Series 550
The new Series 550 with 3G technology is a step up to a contractor level insulation blowing machine. Use it as your start up machine, a backup, or to expand your retro-fit business.
The Series 550 is capable of blowing types of loose fill materials such as cellulose, fiberglass and rockwool. No other insulation blower provides this level of performance, reliability and versatility in an affordable machine.
Features
Double clutch design
Heavy duty agitator for consistent processing
200 ft. remote control cord
Optional wireless remote
Rugged drive train
Positive displacement blower
Durable powedercoated finish
Basic controls for ease of operation
Shear pin safety system
3" hose outlet for optimal production
Easy engine access
Emergency stop for operator safety
Easy access for air lock seal maintenance
Simple mechanical feed gate
Two year warranty
Power Source
Dimensions
Length: 50"
Width: 41"
Height: 59"
Weight