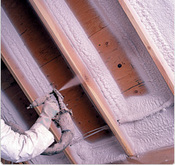 JM Corbond III
Johns Manville Corbond III closed-cell spray polyurethane foam (SPF) is the ultimate insulation solution. It barricades the indoors from the outside climate, creating thermal, air and moisture isolation. Because it will not shrink or settle, its incredible thermal and acoustical performance lasts of a structure. JM Corbond III SPF and its unique Lavender color have become a symbol of uncompromising quality and standards and a mark of environmental commitment.
JM Corbond III SPF is a premium, high-yield spray polyurethane foam building insulation. The product is generated on site by combining an isocyanate and a polymeric resin through a dual-component proportioner. Fast, easy and adaptable, it can be applied at temperatures as low as 25°F and with an R-Value of 7.0 per inch achieve an R-value of 21 even in a 2x4 wall. JM Corbond SPF is well suited for residential, commercial and industrial applications. As one of the most advanced insulation solutions, it offers climate isolation between indoor and outside environments.
This system is sprayable, rigid, closed-cell polyurethane cellular plastic foam insulation designed to insulate buildings. The sprayed product, properly installed, results in a seamless, monolithic and durable insulation fully adhered to the substrate; it is lavender in color.
Wall - may be applied to the exterior or interior of walls in both commercial and residential buildings. May be applied without primer between studs to a variety of sheathing substrates to the desired thickness. Suitable sheathings include but are not limited to plywood, OSB, any foam sheathing with or without foil facers, rock, brick, CMU, concrete and painted or primed steel. JM Corbond III SPF may be applied to the substrates without studs as well.
Cathedral Roofs - may be applied directly to the underside of roof sheathing between the rafters to the desired thickness. Traditional venting is not necessary and should be avoided (section 806.4 of the IRC).
Hybrid Solutions - combine JM Corbond III SPF with JM Formaldehyde-free building insulation to create a custom insulation solution.