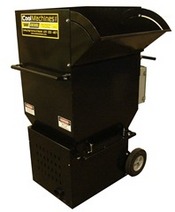 Cool Machines Inc CM 1500
CM 1500 Portable Insulation Machine
A great addition to our insulation machine line-up is the highly efficient, CM-1500. This all-fiber blowing machine handles Cellulose, Fiberglass, and Rockwool as well as damp recycle fiber for wall spray. The high pressure blower (4.5 p.s.i.) /airlock assembly, far exceed the requirements needed for retrofit and dense packing sidewalls.

This machine is perfect for the small insulation contracting professional who needs the flexibility of portability and low power requirements, yet the higher production of large machines. Innovative 'scalping augers' are designed to break apart the compressed bales into smaller chunks which are shredded consistently and evenly for optimal coverage before they enter the airlock. This machine does not use long paddles that are prone to wear and bending. The augers are located deep within the machine, fully out of arm's reach, to provide a safe working environment.

For those looking for more power, this unit can be outfitted with a double blower system as well as many other optional features.

MATERIAL PRODUCTION RATE
| | |
| --- | --- |
| MATERIAL | lbs/hr |
| CELLLULOSE | 2200 |
| FIBERGLASS | 900 |
| ROCKWOOL | 1400 |
Technical Aspects
Quick release 13 cu./ft. hopper for easy handling, transport, and fast access to air lock.
Quick release augers provide easy access to airlock seal replacement and service.
Dual scalping auger/shredders increase fiber conditioning and consistent fiber flow.
Large handles for easy handling and transport.
Precision extruded airlock provides longer airlock seal life, high pressure (4.5 psi) for dense packing, with slide gate control providing accurate metering of fiber.
High quality powder coating provides a long lasting, corrosion resistant finish for a durable professional appearance lasting years.
See thru access panel and modular design for quick troubleshooting and maintenance.
One or two integrally mounted 2 stage blower(s) w/check valve, filter protection.
Magnum super blower, (8.4 diameter, 140 CFM, 13 amp) provides higher blower output capacity with double the air power and service life.
High torque TEFC thermal overload protected drive motor and high torque gearbox provides longer service life and cost savings by allowing individual replacement of a failed component (motor or gearbox).
Nickel plated #40 chain, hardened sprockets, and triple sealed re-reusable heavy duty bearings are rugged and corrosion resistant.
150 ft. remote cord w/dual function (3 position), offers operator control and convenience.
Safety Features: kill switch and manual override controls promote increased operator control, safety, and quick hazard response. (optional pre-alarm buzzer).
Manual thermal overload protection of all motors and electrical components.
Panel voltmeter for low voltage recognition and quick electrical diagnostics.
Surface mounted liquid filled pressure Gage provides method to calibrate pressure for dense packing and verification of airlock seal quality.
"Smart" panel LED power indicator lights on plugs and receptacles provide instant electrical diagnostics.
Ergonomic hose output design eliminates operator trip hazards when loading machine.
Weight
330 lbs (1 blower)
350 lbs (2 blower)
Dimensions
Hopper Capacity
13 cubiic foot - 2-3 bags
Airlock
14" long x 10" diameter
Volume = 1099 cu/in
Precision extruded f/high pressure
3" output tube for hose
Generator size
5000 watt or larger for 1 blower
7500 watt or larger for 2 blower
Blower specs
Large: (140 CF) 13 amp/120 volt
Small:l (104 cfm) 8 amp/120 volt
Blower/Power Inputs
Single Large: 15/15 amps
Large & Small: 15/15 amps
Double Large: 15/20
Options
CE Conformity f/Europe
Blower (13 amp or 8 amp)
Wheel: HD air or hard rubber
Wireless remote
Internal Wetting System (IWS)
Hose & Hose Reels, etc.
Pumps & Spray Accessories