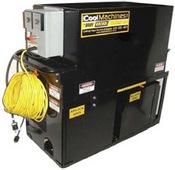 Cool Machines Inc CM 2400
CM 2400 Insulation Machine
The 2400 series machine provides an economical, high production machine with low power requirements and reduced weight/size in your truck/trailer system. The simple design and minimal moving parts provide a machine that is low maintenance
and easy to repair.
This compact, robust machine with its various options, will outperform and out-last any machine in its class.


MATERIAL PRODUCTION RATE
| | |
| --- | --- |
| MATERIAL | lbs/hr |
| CELLULOSE | 3000* |
| FIBERGLASS | 900* |
| ROCKWOOL | 1800 |
*16" Airlock produces 3600 lbs/hr cellulose (100 ft)
*16" Airlock produces 1300 lbs/hr cellulose fiberglass
Mechanical
Large 15 cu./ft. hopper capacity fiber storage. (optional 30 cu. ft. pr 40 cu. ft. extension hopper)
Stainless slide gate and integrally mounted pressure gauge provides precise fiber control.
High quality powder coating provides a long lasting corrosion resistant finish.
Modular design with see thru access panels for quick troubleshooting and maintenance.
Large 12: x 12" (optional 16"), quick release airlock is a durable, easily serviced component.
Slow speed positive feed scalping augurs extend component life, while increasing safety.
High speed stainless turbo shredder maximizes fiber conditioning, coverage, and production.
High torque (1250 in./lb.) motor/reducer drive provides surplus power.
#50 chain and hardened sprockets, are rugged, corrosion resistant, and positive driving.
Two integrally mounted 3 stage blowers w/check valve protection, outside air tube for reduced filter maintenance. (optional four blower or P.D. blower)
150 ft. 3 function remote cord w/cord hanger, offers convenient handling of remote device.
Electrical
Safety Features: kill switch and manual override control promote increased operator safety and quick hazard response.
Panel mounted manual thermal overload protection of all motors and electrical components.
Deluxe voltmeter, L.E.D. lighted plugs and receptacles for quick electrical diagnostics.
Weight
Dimensions
Hopper Capacity
Main Hopper: (15 cu/ft (3 bags)
with Hopper Extension:

30 cu/ft (6 bags)
40 cu/ft (8 bags)
Airlock
12" long x 12" diameter
3" output for blowing hose
Slide-out airlock
Optional (12" long x 16" diameter airlock
Blower
Two, 2-stage (120 volt 8 amp)
Two, 3-stage (120 volt 12.5 amp)
Four, 3-stage (120 volt 12.5 amp)
5 hp PD blower
Power Requirements
Double input, 20/30 amps. 120 volt or
Single input, 30 amp. 240 volt (two 3-stage blowers)
Single input, 40 amp. 240 volt (four 3-stage blowers or 5 h.p. P.D. blower)
Generator Size Requirements
8000 watt (2-blower)
15,000 watt (4- blower or 5 h.p. P.D. blower)